Guide to Cleaning Temporary Veneers
Cosmetic dentistry can be an effective way to get the smile you've always dreamed of. One of the most popular cosmetic procedures we have is placing veneers over your original teeth if they're cracked or crooked.
Your dentist oversees the entire process of creating and fitting your veneers. Through careful planning and taking precise measurements of your teeth, your dentist can ensure your veneers appear seamless and fit right in with your smile.
One of the most critical steps in the process is wearing temporary veneers. Learning how to take care of and clean your temporary veneers is vital to ensuring you get long-term results from your permanent veneers.
What are Veneers?
Veneers are a thin layer of artificial teeth usually made of porcelain. They are a useful cosmetic dentistry option since they sit on top of your teeth and can hide any cracks or imperfections you may not like about your smile.
Veneers are different from other cosmetic dentistry options like dental crowns and bridges because they don't fully replace your tooth. Instead, they act as cover in front of your teeth and look just like your natural teeth surface.
How Are Veneers Made?
In order to make veneers, your dentist first prepares your teeth by administering a local anesthetic and taking off a small amount of enamel to fit your veneers. The enamel is the outer part of your teeth that appears white and shiny. It's one of the hardest parts of your body and keeps the nerves and blood vessels inside your teeth protected.
Once your dentist removes some of the enamel, they take a mold of your teeth to ensure your permanent veneers fit nicely on your teeth. Making your veneers takes place at a lab and usually takes 1–2 weeks.
Your dentist may provide you with temporary veneers while you wait for your permanent veneers since your teeth won't look the same as they did before the enamel removal. These temporary veneers are fragile, usually made of composite or acrylic. It's essential to take care of them when you have them, which may last from 3–4 weeks.
The Importance of Temporary Veneers
Temporary veneers are vital because they serve the same purpose as your enamel, which your doctor will have removed to fit your permanent ones. Your dentin (the layer just below your enamel that houses vital nerves and blood vessels) can be exposed without your enamel.
Temporary veneers are also helpful in keeping your teeth in place while waiting for your permanent veneers. If your teeth shift, the permanent veneers may not fit properly. Temporary veneers are bonded to your teeth using a weaker cement than the one they'll use for the permanent ones, so it's easy to remove them.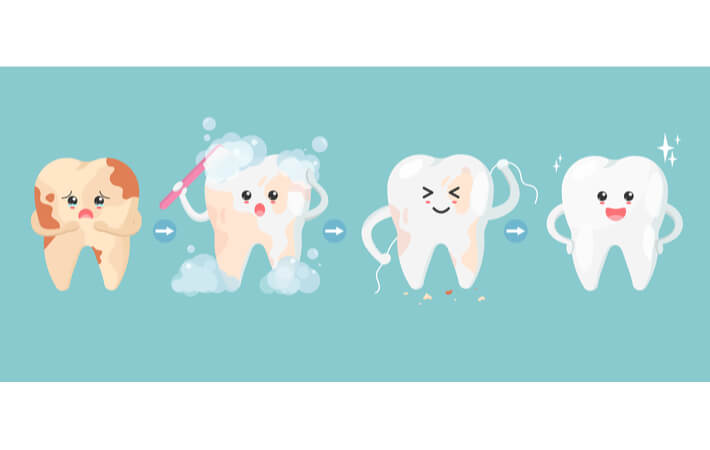 Tips to Keep Temporary Veneers Clean
Keeping temporary veneers clean, and understanding how to avoid damaging them, makes the entire process of getting your permanent veneers that much easier. If your temporary veneers crack or shift due to poor oral hygiene, it can set back the timeline, and you'll have to wait longer to get your permanent ones.
Stay Away From Certain Foods
Since your temporary veneers are made from composite or acrylic materials, they aren't as durable as your permanent ones made of porcelain. For the time you have temporary veneers, you should avoid foods such as:
Gum
Apples
Carrots
Crackers
Chips
Corn
Nuts
Chewy meat
These foods can all cause your temporary veneers to crack or shift, so it's essential to avoid them while waiting for your permanent ones. Once you have your permanent ones, you can eat whatever you like!
Avoid Teeth-Staining Items
Composite and acrylic are slightly more prone to staining than porcelain, and for the time you have your temporary veneers, you want your smile to be as bright as possible. Avoid certain teeth-staining foods and drinks such as:
Coffee
Pop/soda
Wine
Tomato sauce
Berries
Instead, you can eat some of the following foods that are tasty and don't stain your veneers:
Bananas
Eggs
Chicken
Fish
White rice
Additionally, if you smoke, avoid cigarettes as they can also stain your teeth and lead to other issues like gum disease and infections.
Practice Good Oral Hygiene
Brushing your teeth is essential for your oral health, even when you have temporary veneers. Brushing your teeth twice a day for 3 minutes at a time and flossing afterward gets rid of any leftover food that could cause your teeth or temporary veneers to shift.
Discover if Veneers Are Right for You
Our team at Marks Dentistry can help you determine if veneers are right for you. If not, we'll go through your options with you to find the right solution because our number one goal is getting you the smile you deserve. Book in with our Eboticoke dentist to set up your consultation today.