Invisalign can be an excellent choice for supporting your smile. Unlike traditional braces that use metal brackets and wires, Invisalign uses clear, computer-created aligners. But if you've already had some form of dental work performed, like having a bridge or crown installed, can you still get Invisalign?
Yes, you can absolutely get Invisalign with dental bridges. Since a dental bridge is secured in place, the Invisalign aligners can be shaped to fit around the preexisting bridge. And since the aligner doesn't get attached to the teeth, the bridge won't be affected.
It's important to note that even though many people with bridges can still be good candidates for Invisalign, every case is unique. You should book an appointment with your dentist before making any decisions so they can help you determine whether or not Invisalign is the right choice for your teeth.
What Is Invisalign?
Instead of being installed through a series of brackets and metal pieces like standard braces, Invisalign uses plastic aligners that blend in with your teeth. These aligners are designed to slowly push your teeth into place and proper shape and are changed out every two or three weeks to ensure they're doing their job properly.
Once you've gone through the first steps of the Invisalign treatment, your dentist will have you visit every 6-8 weeks to monitor how your teeth are adjusting and make sure your aligners are performing properly.
These aligners are designed to minimize pain while your teeth are adjusting, but there may be some discomfort or a mild ache while you get used to wearing them. This often goes away as you adjust to wearing your aligners.
You wear these aligners throughout the day and while you sleep, only removing them to brush your teeth, clean the trays, and when you eat to avoid any buildup. They'll continuously put small amounts of pressure on your teeth to slowly push them into shape.
It's important to remember to properly clean your aligners every day and night. The alignment trays can be easily removed, and you should rinse them with cold water before cleaning them with a toothbrush. You don't need to use toothpaste, as this could scratch the alignment trays or even cause discolouration.
Does Invisalign Affect Other Dental Work?
For the most part, Invisalign doesn't interfere with bridges or crowns. However, your dentist will have to examine your teeth before confirming whether or not you're a good candidate for Invisalign, as it can be difficult to work around preexisting dental work in some cases.
If you have bridges, crowns, or veneers installed, your dentist may need to take some precautions to avoid any potential problems. Since bridges and crowns are normally fixed in place and aren't designed to move, they could lead to resistance against the Invisalign alignment trays.
This could make it so your Invisalign treatment takes a little longer than expected. However, your dentist will be able to assess whether or not any preexisting dental work could impact the Invisalign treatment.
Ultimately, having crowns, bridges, or veneers doesn't make Invisalign impossible! It just means that your dentist may have to adjust your treatment plan accordingly.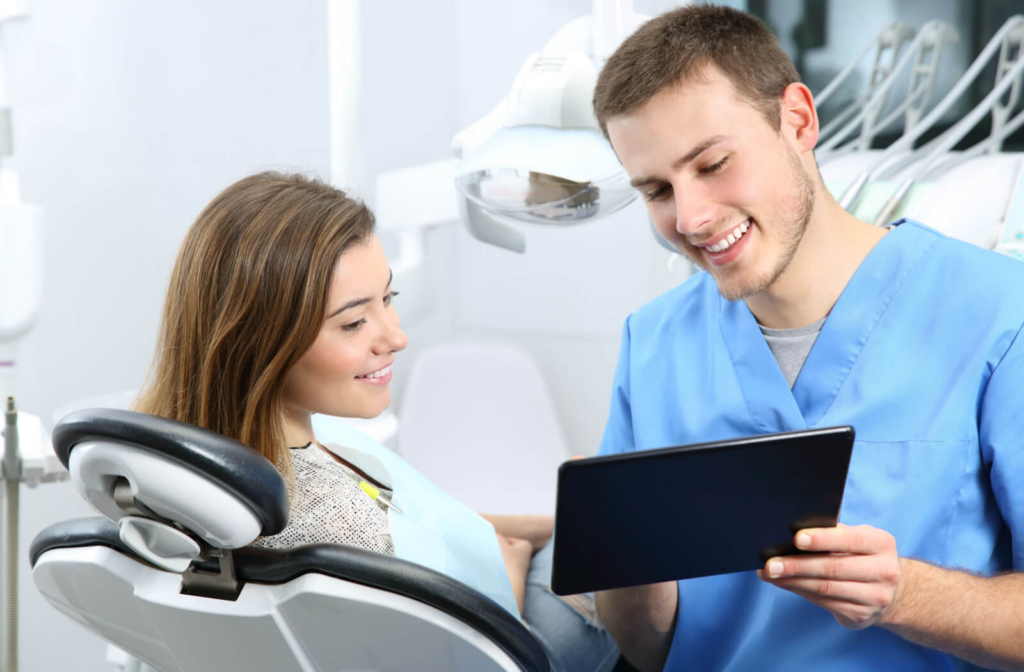 How Do You Know if Invisalign is Right for You?
At the end of the day, your dentist will be able to determine whether or not you're a good candidate for Invisalign. If you have implants of any kind in your teeth, your dentist will assess the situation and communicate with you about how they may affect your Invisalign treatment.
If they think it's a good idea, they'll walk you through the next steps in the process of getting Invisalign. By discussing your overall oral health and what your goals are for your smile, they'll be able to customize a plan for your needs and help you determine how to achieve your goals.
To learn more about Invisalign or find out if you're a good candidate, reach out to us at Marks Dentistry and book an appointment today!