For many patients, unaligned teeth are a problem your dentist can treat, whether with traditional braces or Invisalign. If you're interested in Invisalign, can you still receive this treatment if you suffer from teeth grinding (bruxism), a common dental problem?
Continue reading to learn more about Invisalign and bruxism, including if you can receive this treatment if you grind your teeth.
What Is Invisalign?
Invisalign is an alternative way to straighten and adjust your teeth, using clear plastic aligners to improve your smile. It's a discrete way to treat crooked teeth compared to traditional braces. In fact, Invisalign can treat teeth faster than braces, by up to 50%.
You wear Invisalign almost all day, every day until you reach your desired results. Your dentist supports you through this process, providing new aligners as you progress.
Unlike traditional braces, you can remove your aligner to clean your teeth. Research suggests this can benefit your oral health because you have fewer bacteria in and around your teeth and gums. You generally only remove your aligner when you eat, drink, brush, floss, or clean them.
Is Invisalign Right for You?
Invisalign can be beneficial for anyone suffering from tooth conditions affecting their alignment. Anyone can see results from this treatment, but it's generally more effective the younger you are. Your teeth become harder to shift as you age.
While your teeth are harder to shift with time, you can still improve your smile. Invisalign can take 6 months to 2 years, depending on the state of your teeth.
Invisalign can help treat several tooth conditions, including:
Your dentist can determine your eligibility for this treatment during an initial consultation.
How Does Invisalign Work?
The overall process for Invisalign is simple. Your dentist takes impressions and moulds to create your aligners after assessing your teeth.
They create a customized treatment plan using digital and physical assessments. They'll learn more about your goals for treatment and examine your oral health.
Afterward, they create your custom aligners. You wear them for 20 to 22 hours every day, changing aligners as needed when you progress. Your dentist will book follow-up appointments every 6 to 8 weeks to help monitor how the treatment is going.
With time, you'll reach your desired results.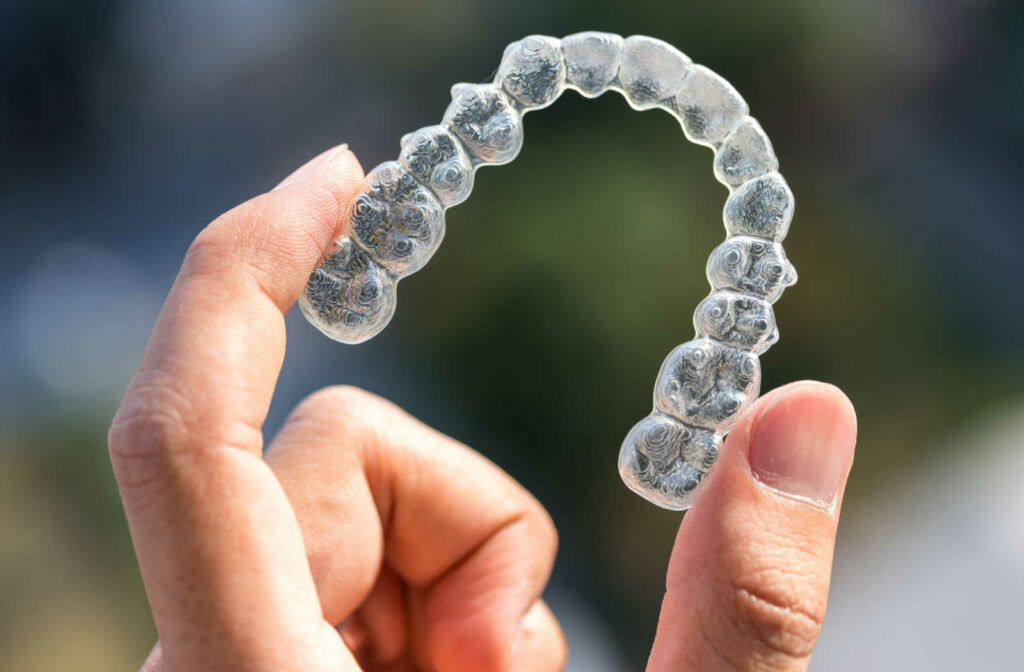 What Is Teeth Grinding?
The medical term for teeth grinding is bruxism, when you grind, gnash, or clench your teeth. This condition can affect you at night or during the day. Many people don't notice bruxism because grinding or clenching happens unconsciously.
There are 2 kinds of bruxism (awake and sleep), each affecting your teeth differently. Awake bruxism doesn't involve grinding but clenching instead. You tense the muscles around your jaw, causing discomfort and other irritation.
Sleep bruxism happens when you're sleeping, causing you to clench or grind your teeth and cause damage. One of your loved ones will likely notice sleep bruxism before you do.
Several common symptoms of teeth grinding exist, including:
Worn tooth enamel
Tooth pain or sensitivity
Tired or tight jaw muscles
A locked jaw that won't open or close fully
Jaw, neck, or face discomfort
Dull headache in the temples
Damage from chewing on the inside of your cheek
Disrupted sleep
Teeth grinding or clenching
Flattened, fractured, chipped, or loose teeth
What Causes Teeth Grinding?
There's no definite cause of bruxism, but experts believe it may occur because of a combination of physical, psychological, and genetic factors.
Different factors can increase your risk of bruxism, including:
Stress
Age
Personality
Medication use
Family history
Other medical disorders z
While bruxism won't affect your ability to wear Invisalign, you may notice your aligners have more wear and tear. Excessive clenching or grinding can thin the biting surface of the aligner, causing a potential hole. You shouldn't have any problems receiving this treatment but confirm with your dentist to be safe.
Additionally, you may not be able to wear a bruxism splint at night due to wearing your aligner. If this happens, you may notice teeth grinding symptoms reappear. However, your Invisalign will help protect your teeth from damage.
Ensure you bring up having bruxism to your dentist in your initial consultation. They can further explain how this condition will affect your Invisalign treatment and provide recommendations on what to do.
Learn More About Invisalign
Invisalign can straighten your smile, helping you feel more confident. While the treatment process is simple, your dentist must determine your eligibility first. They can discuss potential complications, like bruxism, with you before treatment begins.
You can straighten your teeth discreetly with clear removable aligners. With time, you can realign your teeth. Consider your dentist an information source for everyone Invisalign-related. Contact your dentist if you're interested in Invisalign. They can determine your eligibility after examining your teeth and discussing your smile goals.